By LCpl. Joshua Young, I MEF Public Affairs | | March 12, 2012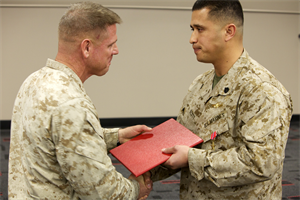 Staff Sgt. Maurice Scott, with Marine Special Operations Command, receives the Bronze Star, military's fourth highest award, at Camp Pendleton, Calif., March 12. Scott, 33, from Chicago, employed supporting aircraft to break lines and hinder enemy activities during a night helicopter raid, according to the citation. (Photo by LCpl. Joshua Young, I MEF Public Affairs)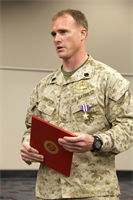 Staff Sgt. Andrew K. Thompson, with Marine Corps Forces Special Operations Command, speaks to peers after receiving the Silver Star at Camp Pendleton, Calif., March 12. Thompson from Bismarck, N.D., led his team and a company of Afghan National Army in an operation to clear a village in the Farah Province of Afghanistan, according to the citation. (Photo by LCpl. Joshua Young, I MEF Public Affairs)
March 12, 2012 —
MARINE CORPS BASE CAMP PENDLETON, Calif. (March 12, 2012) – A staff sergeant from Bismarck, N.D., received the Silver Star for leading Marines and Afghans into an attack under intense fire to overcome the enemy.
Col. Steven J. Grass, the commanding officer of Marine Special Operations Regiment, presented the military's third highest award to Staff Sgt. Andrew K. Thompson, and the military's fourth highest award to Staff Sergeant Maurice Scott,both of 1st Marine Special Operations Battalion, during a ceremony at Camp Pendleton, Calif., March 12.
Thompson, who was an element leader with Marine Corps Forces Special Operations Command, Company A, led his team and a company of the Afghan National Army in an operation to clear a village in the Farah province of Afghanistan, according to the award's citation. During the operation, the unit came under heavy fire. Thompson returned fire, killing and wounding several enemies and set up his team in defensive positions.   Scott, 33, from Chicago, employed supporting aircraft to break lines and hinder enemy activities during a night helicopter raid spotted and eliminated an insurgent cave position by employing a missile strike while observing from an exposed position, according to the citation.
Thompson resupplied his formation twice while under fire from multiple directions. He called in air support and coordinated fires from attack helicopters and jets to break the enemy's defense. Thompson's example to the ANA soldiers allowed him to lead them into the attack and defeat the enemy.
The citation also mentioned the lives Thompson saved through his leadership and combat effectiveness.
"On days like that, one thing I usually do is pray for wisdom to make good decisions and courage to act on those decisions for my entire team," Thompson said. "Everybody played an extremely critical role. Everybody was a key player that day. The Marine Corps doesn't like to give this stuff out to everybody, but that day they probably should have."
Thompson was raised in Williston, N.D., by his parents who attended the ceremony.
"Andrew was always very action oriented," said Beth Thompson, Andrew's mother. "He couldn't just sit and watch something, he had to do it."
Thompson developed his leadership through many sports and extra-curricular activities throughout his childhood.
"Andrew has always been a real team oriented guy, willing to sacrifice personal recognition for the sake of the team," said Daryl Thompson, Andrew's father. "He had a spirit about him that just made others enjoy following him. He had a real enthusiasm about life and competition."
Andrew's parents said that their family has a real respect for their nation. Several of Andrew's family members have served in the military.
"Ever since I was young my father and mother always told me to do my best," he said. "I'm going to continue to work had and do what's best for 1st MSOB."
"On numerous occasions I witnessed many heroic actions from members of the team," said Scott. It (the award) represents the achievements of our team."
"Everybody played an extremely critical role that day," said Thompson, "The Marine Corps doesn't like to give this stuff out to everybody, but that day they probably should have."