Compensation for the men and women who put themselves in harm's way has been rising since 9/11. It's all part of the price of freedom.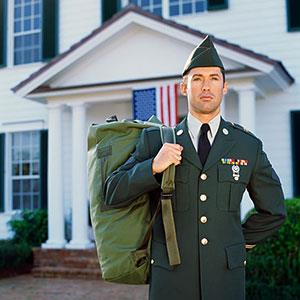 As we approach Armed Forces Day this weekend, take a moment to not only thank your friends and family in uniform but to consider their unique way of life.
 The old Navy slogan, "it's not just a job, it's an adventure," may still hold true, but at the end of the day, working in the military remains a job — with its own job culture, pay scales and unique financial aspects.
 Military take-home pay can run from around $16,000 annually for someone just entering basic training all the way up to over $200,000 for a member of the Joint Chiefs of Staff. Members of all four military services work with an equivalent pay grade scale — E-1 to E-9 for enlisted personnel and O-1 to O-10 for officers.
 But military salaries are more than just a person's basic and taxable take-home pay. Compensation also includes tax-exempt allowances for things like living quarters as well as benefits for health care and retirement. And Military.com notes there are currently more than 70 different types of pay and allowances in the military system, including factors like flight pay, submarine pay, overseas deployment pay, hostile fire pay and imminent danger pay.
 According to George Washington University's Face the Facts project, about one-quarter of the U.S. Defense Department's overall budget — around $153 billion in fiscal 2012 — goes toward personnel costs. And two major components of those costs are salaries and allowances, at more than $100 billion, and health care, at over $53 billion. In addition, military retirement costs in 2011 came to $51 billion.
 The study also notes that, while the U.S. military's active duty force has grown just 4% since 2000, compensation costs are up 28%.
Clearly, those "perks" can add up. In its fiscal year 2014 budget request released last month, the Department of Defense acknowledged that. The regular military compensation of basic pay, housing, subsistence allowances and tax advantages created an equivalent salary for the average military enlisted member of more than $52,000 in 2011, while the average officer's equivalent salary was around $100,000.
Robert Goldich, a retired military manpower analyst with the Library of Congress' Congressional Research Service, notes military salaries have been on the rise since the end of the draft during the Vietnam War, when the four services had problems with retention due to competition from the civilian sector.
Pay has "gone up even more in the past 10 to 12 years, because of the wars we've been in," he says. And since 9/11, Goldich notes, "there's been a sense that you need to be able to attract people to meet requisite force levels for fighting the wars. And there's also been a sense in Congress, because we've been at war, of giving the troops more."
 Plus, the Servicemember's Civil Relief Act, which offers some protections for deployed active-duty military personnel, postpones or suspends obligations on financial issues such as credit card debt, mortgage payments or taxes.
 Of course, it's impossible to truly compensate military personnel who endure years of sacrifice and who, as part of their profession, put themselves in harm's way. But Goldich says it's a trade-off.
"My son was a combat Marine infantryman with two combat tours in Iraq," he says, "and he wasn't getting paid a huge amount of money, but he was certainly getting paid a lot more than an enlisted infantryman was getting paid during the draft era."
Re printed by Southern Utah Vets Aid of Saint George Utah